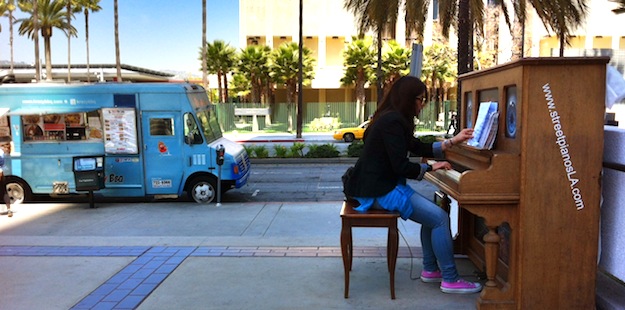 The warm wind whipped down Wilshire Blvd, bringing a snippet of Bach along with it. I followed the drifting notes as they wove through the drone of traffic and the chatter of people waiting in lines alongside the row of food trucks.
Seated a couple steps above the sidewalk at 5900 Wilshire, I found Kimia Mostaghimi playing an old upright piano decorated with two eyeballs and a brain (courtesy of artist Evan Skrederstu.) A native of Iran, Kimia explained that she had to sell her childhood piano upon moving to Los Angeles and has missed it ever since. After passing by this piano on Wilshire the past few days, she decided today was the day to sit down and play it. It was a challenge with the wind whipping the sheet music into a frenzy, but Kimia was having a good time. So were those of us who stopped to enjoy her music.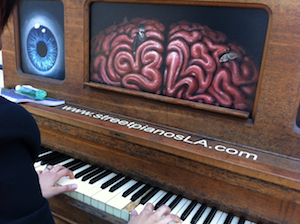 The outdoor public pianos are the mastermind of British artist Luke Jerram . His "Play Me I'm Yours"  project has put pianos on the streets of two dozen cities across the globe to bring people together over music.  The website Streetpianos.com features video, stills and stories of the variety of people who play, and the music they make. It's fascinating to see pianos dropped into some unusual locations, and played with such gusto.
Putting 30 pianos on the streets of Los Angeles, the largest street piano project yet, was made possible with the help of the Los Angeles Chamber Orchestra which funded the project to celebrate conductor and pianist Jeffrey Kahane's 15th anniversary as LACO music director. You can see locations of all the LA pianos at Street Pianos-LA.
If you want to hear the real deal, you may catch Kimia playing Bach's Intervention and Presto  again on Wilshire one of these days. If not, maybe you can sit down on the bench yourself, and give those ivories a tickle.
A free one-night only pop-up piano tribute Thursday, April 26th at 8.45 pm at the Egyptian Theater: Love Letters to LA
LAist: You're the Piano Man, LA
Category: Featured, Hancock Park Life, Larchmont Village Life, The Honey