Larchmont Boulevard merchants and restaurants will be participating in Small Business Saturday for the second year in a row. Small Business Saturday is a program that American Express has championed in support of local businesses – the heartbeat of our communities. The goal it to drive awareness for local retailers via a Shop Small marketing campaign…plus American Express backs it up by promising American Express card holders $10 back when they spend $10 (cards must be registered).
AMEX estimates that last year consumers spent $5.5 Billion nationally at local retailers and restaurants on this day.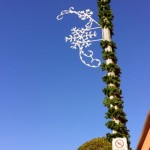 The Boulevard is all spiffed up and ready to deliver this Saturday! The Larchmont BID has new holiday decorations (including new little white lights and festive garland around the light poles); plus, the trees are trimmed and the sidewalks are cleaner thanks to a twice monthly schedule of steam cleanings.
Larchmont Boulevard shops will open at 10am on Saturday with special offers for area residents. Many of the shops on Larchmont take pride in stocking items that make perfect gifts for the special people on your holiday lists…things you don't see in the big box retailers.
Let's support Larchmont Boulevard shops and restaurants on Saturday by shopping local.  Be sure to share your purchases or experiences on social media using #ShopSmall #LarchmontBlvd and inspire others with your finds!
Small Business Saturday
Saturday, November 29 | 10a – close (various times) Larchmont Boulevard  #ShopLocal #LarchmontBlvd
Category: Featured, Larchmont Village Events