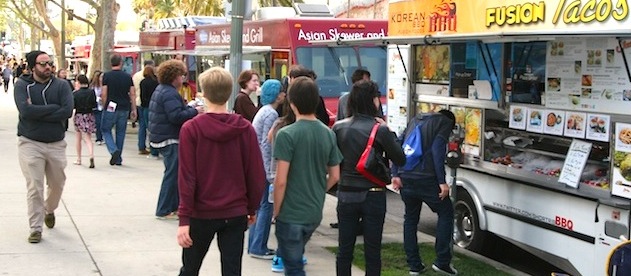 The LA City Council unanimously approved an ordinance last week that restricts over-sized trucks from parking on Wilshire Boulevard near LACMA. Councilman Tom LaBonge put forth the ordinance as a way of helping to increase visibility for drivers in the area. The ordinance effectively bans food trucks from parking along Wilshire, between Fairfax and La Brea between 9am and 4pm.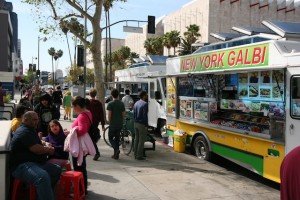 It looks like this will put a lid on the controversial battle between the food trucks and the local brick and mortar restaurants that has raged for the past 3 years. Luckily for those who live and work in the area, there are more restaurant choices than ever – with at least 10 new restaurants moving into the blocks between Fairfax and La Brea over the past few years. (Chipotle, Five Guys, Ono Hawaiian BBQ, Starfish Sushi, The Counter, Slow Sushi, Ray Starks, C+M (Coffee and Milk) and newly renovated LACMA Cafe, to name a few…)
The ordinance will be enforced in approximately 30 days.
Read more:
Park La Brea News and Beverly Press – Food Truck Selection May Dwindle
CBS Los Angeles – L.A. City Council Approves Ordinance Restricting Food Truck Parking Near LACMA 
Category: Larchmont Village News, Uncategorized