Huell Howser, everyone's favorite California storyteller and former Hancock Park resident, passed away late Sunday at his home in Palm Springs, California at the age of 67.
Howser, a long-time resident of the El Royale Apartments on Rossmore Avenue,  was a regular on Larchmont Boulevard until he moved full time to the desert in 2010. He moved into the El Royale in 1983 and was their longest residing resident. According to his longtime friend and producer Ryan Morris, Huell "sure loved Larchmont"… I think it's fair to say that we all loved him back. Whether it was at the Farmers Market, the newsstand or at one of the local restaurants – Huell was always gracious with his time and happy to share conversation.
Social media was full of locals sharing memories of the folksy, charming California poet.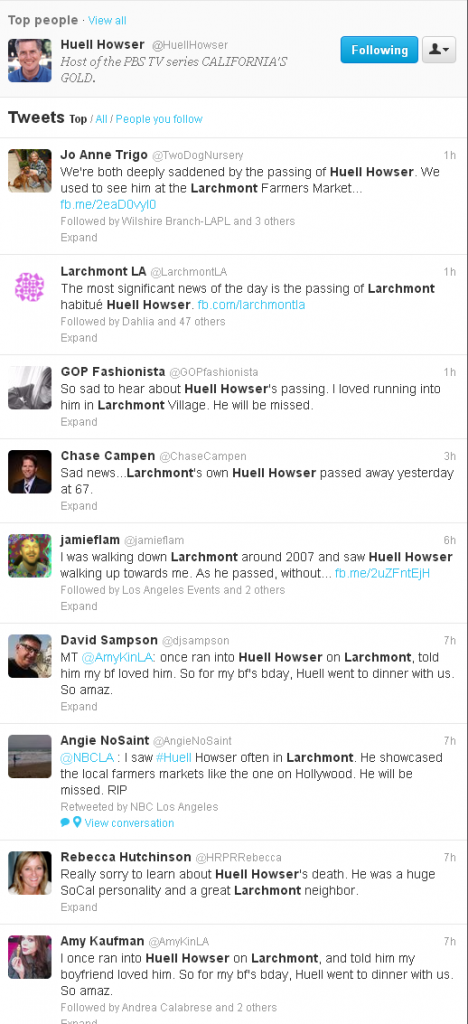 And Councilmember Tom LaBonge released a statement earlier today honoring his friend:
A great Californian left us today. Huell Howser was my friend for over three decades, and no one knew this state better. He had a great ability to find fresh faces in old places, and he paid tremendous attention to our incredible California infrastructure. Huell was an advocate for good.
I remember introducing him to Charlie Turner, the honorary mayor of Griffith Park, back when Huell was working at KNXT (now KCBS) on human interest stories. I remember seeing him at Musso and Frank's. But I most remember the day in 2001 when Huell swore me in as a new Councilmember.
Just last night, I was watching Huell's segment on a lighthouse in Del Norte County, which he described with incredible joy. No one can replicate that amazing enthusiasm. We've really lost the mother lode of California gold.
 -Councilmember Tom LaBonge, Fourth District, City of Los Angeles
Rest in peace, Huell Howser. You are true 'California Gold.' You have been an inspiration to us to stop and look more closely at the wonderful places around us and your legacy will continue to inspire and fuel our love of our neighborhood, City and the State of California.
KCET.com – Remembering Huell (viewer memories)
LA Weekly – Huell Howser Videos: A Top 5
Category: BID, Larchmont Village News