In part 2 of our series, Street Trees. Larchmont Buzz Writer at Large, Devon O'Brien, goes on a walk-about around the neighborhood with Scott Goldstein, Chairman of Canopy, the branch of the Windsor Square Association devoted to the care of the thousands of parkway trees that grace these streets. 
In an earlier story, A Brief History of Street Trees, Scott Goldstein described how the trees we associate with our streets – like the towering Canary Island Palms and the gracious Southern Magnolias – are not native to Los Angeles. They are exotics. Selected and installed by the original developers about 100 years ago, these trees are actually poorly suited to the climate typical of our area, wet winters and warm summers. And now, into year four of the great California drought, these beloved trees are imperiled, doomed. In Part One, Goldstein contemplates the fate of these trees and the necessity of replenishing our part of the urban forest. He poses the question, "Now that we have less rain, what kind of trees?"
As we continued our walk, Goldstein spoke about the sense and benefits of selecting California native trees for Windsor Square, and all our neighborhoods. He has a pair of natives in mind to show me. As we turn our steps towards Van Ness Avenue, I cannot help but recall a character in a play: Astrov, the doctor in Uncle Vanya by Anton Chekhov. Another character says of Astrov, "He plants a tree and thinks what will come of it in a hundred years time." Goldstein is just this sort of arboreal hero.
"What we are trying to do in Windsor Square," he says as we walk, "is not necessarily plant for the current homeowners, but to plant for future generations. Trees outlive us. What are the streets going to look like in another hundred years, or in fifty years? Canopy is trying to fill in with the species we think should dominate each block even if it's not the dominant species now."
We arrive at a broad parkway on Van Ness and stand in the shade of two flourishing live oaks, Quercus agrifolia.
"This species is strangely rare in Windsor Square. This pair of trees is the single example of a California native oak tree being used on any of the parkways."
Goldstein and his wife planted them themselves. At the time, nearly 20 years ago, there was no Master Parkway Plan in Windsor Square, restricting the species homeowners can plant on their parkways. They chose these trees as sort of model or sample for the street and neighborhood. In 1995, Goldstein was already advocating the use of native trees in the parkways.
"If you go to Pasadena or some of the towns east of here, these trees are very common on the parkways – different kinds of oak trees, native and European oaks — but oaks. And the reason is because they are beautiful, they are extremely drought tolerant, and they're evergreen. It's a classic look, particularly in Southern California."
The trunks are thick, more than 18 inches. The trees are tall, about 35 feet. At their base lies a broad swath of crunchy mulch. At first, Goldstein cleared just a small circle around them. As the trees grew, Goldstein continued to cut back the lawn, removing it year by year – and the irrigation, as well. He allowed the natural leaf litter from the tree to form the mulch, exactly what would happen if these trees were in the wild.
"So, these trees no longer get any kind of artificial irrigation," says Goldstein, proudly. "They are completely watered by -the drought! They actually haven't shown that much drought stress. This is an amazing thing, yet not that surprising. If the drought continues they will eventually start showing drought stress."
As the trees grow, Goldstein will remove even more lawn. He has already removed approximately 75%, and replaced it with buffalo grass (Buchloe dactyloides). This grass requires water only once per week in the dry months and not at all during rainy months.
"You still have a green parkway, you have lovely shade underneath the trees, and it doesn't take any irrigation. Now I think these are all positives."
In the wild, the life expectancy of an oak is about 500 years, even longer if conditions are ideal. Due to urban pressures and stresses, however, city oaks live a much shorter life span. Still, these two oaks on Van Ness Avenue might thrive for 200 hundred years. As Windsor Square Association reconsiders its Master Plan for Parkways Trees, and as the Los Angeles Department of Urban Forestry considers how to plan for a green and leafy future, these oaks testify to the good sense of selecting and installing native trees. Given the severity of the draught, and considering that uncertain weather conditions are the new normal, it is high time native species were seriously considered as designated species for our neighborhood parkways.
What other native plantings does Goldstein recommend? And, I have more questions for him. The Van Ness parkway is wide and can accommodate oaks. What species of trees will thrive on the more narrow side streets?
"There are other native trees that work well on the side street parkways," says Goldstein. "We'll talk more about that on our walk."
We resume our walk. I am not sure where we are headed, but I know Goldstein is leading the way towards some arboreal answer, which we will learn in Part 3.
– – – – – – – –
For more detailed information on trees, click on Windsor Square Association: Canopy. Information there is relevant to trees throughout the greater Hancock Park area. Also a must-read: The Trees of  Windsor Square,a definitive guide to what's planted in our parkways.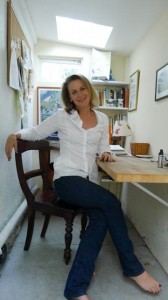 Devon O'Brien is a Larchmont resident and writer who has had her work appear in Vogue, the Huffington Post, The Los Angeles Times and the Larchmont Buzz.  Next month her play, "American Portraits" will be presented at the National Portrait Gallery in London. She currently holds a regular Wednesday workshop "Five Nights Five Tarts" which combines a weekly writing retreat with the eating of delicious tarts.