In Part 3 of our series, Street Trees. Larchmont Buzz Writer at Large, Devon O'Brien, goes on a walk around the neighborhood with Scott Goldstein, Chairman of Canopy, the branch of the Windsor Square Association devoted to the care of the thousands of parkway trees that grace Windsor Square.
Who would argue that the livability, desirability and beauty of our neighborhoods are highly dependent upon the tree population? Almost no one. These green and leafy residents outnumber us and rely on us for their care. We are their stewards – in fact, now more than ever since abnormal weather is the new normal and since the start of the fourth year of the great California drought.
As we are bracing for the new water-usage restrictions to be implemented, so are our arboreal neighbors. Goldstein and other dedicated volunteers are considering how to amend the Windsor Square Master Plan for Parkways – a sort of constitution for the planting and maintenance of approximately 5,000 trees — to these new realities. All of us in the surrounding neighborhoods and The Los Angeles City Department of Urban Forestry, as well, can benefit from Canopy's informed and thoughtful process.
The Windsor Square Master Plan for Parkways Trees was created in 1998. Weather was different then.
"In 1998, we were not in a drought time," says Goldstein. "We were in El Nino years. We had lots of those — from '94 to '98 and a little bit onward. We weren't really worried about the Southern Magnolia not really being the right tree. Most of the trees in the Parkway Plan are from places that receive a lot more water. They are not native trees. So, that was okay then, but now it needs to be changed."
The Southern Magnolia, as a species, has proven untenable – and likewise, all of the palm trees. The palms present a unique problem. For a variety of reasons the city won't plant them anymore. When the trees are young, they represent a liability because the fronds often jut out at eye level and can cause scrapes.
And, the statuesque palms, The Canary Island Palms,with their firework-style tops, these have an incurable disease, called Fusarium Wilt. Many have succumbed and many more will succumb.
"We are trying to work with the city to change the Master Plan," says Goldstein. "It is going to be a very long process." Every block in Windsor Square has a designated tree. You can look up the Master Plan online and see what they are. Canopy advocates the use of drought tolerant and native trees — like live oaks. For the broad streets with wide parkways, Goldstein also favors the use of California Sycamores. There are already a lot of examples of California Sycamores in the neighborhood, like on Sixth Street. Goldstein and I set out towards Sixth to view some of these splendid trees. As we walk, he talks. Goldstein is an arboreal encyclopedia.
"We are always dealing with objections to species, and public taste is impossible to predict. The last meeting I had with Urban Forestry, they were more knowledgeable about native trees than they were in 1998. Then, they thought I was out of my mind [to install natives] so it was just a non-starter, but now that's what we are all talking about." The Sycamore can take quite a lot of water and it is also very drought tolerant. It behaves differently under the two conditions, yet it will survive both. Sixth Street is an arcade of Sycamores, a mixture of California and European.
"How can you tell the difference?" I ask.
"The easiest way is to look at the seed-pods," says Goldstein. "California Sycamores have multiple seeds, whereas the European has only one. The shape of the leaf is another give-away. Leaves on the California Sycamore are long and pointed. The European, in London they are called Plane trees, they have a slightly different shaped leaf. The bark is very similar, however, the California ones have much more mottling on them — the light and dark parts of the bark — than the London Plane trees."
There is a disease common to all types. Anthracnose is a fungal disease that causes leaf drop, twig dieback, cankers and the death of new leaf growth. The California Sycamore is more resistant. Some people have a reaction to the spores that come off of the anthracnose; it affects the upper respiratory system or can cause an allergic reaction.
"All species choices have pros and cons," says Goldstein, with a sigh. "Including native trees. It's often difficult to get everyone involved in choosing a tree to agree."For example, Sycamores are deciduous trees. Some homeowners object to the mess or to the skeletal look of trees without leaves.
Goldstein takes objection to these objections."In California, we are so spoiled, because we can have year-round foliage. So, when their trees go dormant, a lot of people feel this is a disappointment and say, 'Why don't we just have an evergreen?' "I don't feel that way. I think dormant trees or deciduous trees have their own inherent beauty – whether they have leaves on them or not. It's just a different look. And, how nice it is in the wintertime, when there is less light, when the leaves fall off the trees, allowing the light to linger longer under the canopy. So, there are advantages to deciduous trees."
The California Sycamore is Goldstein's recommendation for the broad streets that already have Sycamores, even if there are already Europeans present. And for the side streets? What species would he recommend for those more narrow parkways? As we trudge on, Goldstein starts to talk about Toyons, also known as the California Holly. This is the tree that gave Hollywood its name; originally, the hills were covered in it. During the holidays, the tree has bright red berries. It's a favorite among the birds.
Walking with Goldstein, is it overly fanciful to imagine that trees wave and/or applaud the arboreal hero as he passes beneath them?
Perhaps. Perhaps, not.
Larchmont Buzz: A Brief History of Street Trees Part Two: Oaks
Larchmont Buzz: A Brief History of Street Trees in the Neighborhood
– – – – – – – –
For more detailed information on trees, click on Windsor Square Association: Canopy. Information there is relevant to trees throughout the greater Hancock Park area. Also a must-read: The Trees of  Windsor Square, a definitive guide to what's planted in our parkways.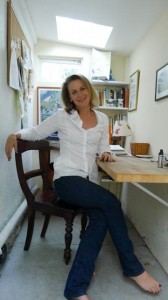 Devon O'Brien is a Larchmont resident and writer who has had her work appear in Vogue, the Huffington Post, The Los Angeles Times and the Larchmont Buzz.  Next month her play, "American Portraits" will be presented at the National Portrait Gallery in London. She currently holds a regular Wednesday workshop "Five Nights Five Tarts" which combines a weekly writing retreat with the eating of delicious tarts.